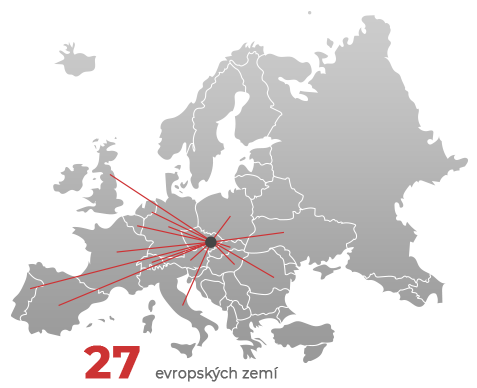 About us
LV Trans Ltd, founded in 1995, is a Czech transport company based in Valašské Meziříčí.
The business has been providing our customers with a complete range of services of international and domestic transportation of goods to the European Union as well as outside the EU countries for 25 years.
In addition to land transport we also offer logistics services including warehousing, shipment completion, continuous dispatching, and others.
Free standard consulting services provide our customers with tailor-made solutions for their transport requirements.
LV Trans Ltd was founded in 1995 by splitting off the transport department of JACOBS Suchard Dadak (now JACOBS DOUWE EGBERTS) into an independent enterprise.
LV TRANS Ltd started with 16 employees and 12 vehicles and has grown into a team of 40 employees operating 33 vehicles.
Ing. Libor Vymola is the director and sole owner of the business.
Services
Road transport
International transport to all EU countries and non EU countries
Domestic transport throughout the Czech Republic
Bulk shipment transport
Ensuring the transport of all sizes and weights of partial truck load and full truck load
Shipment tracking by GPS system
Delivery just-in-time
Spedition services
Other transport
We can arrange flexible solutions of different kinds of transport
Rail transport
Ship transport
Air Transport
Warehousing and logistics
Providing warehouse space
Distribution from the warehouse according to customer requirements
Service 7/24
Insurance
Cargo insurance according to the CMR convention
Insurance of all transport risks
Possibilities of insuring shipments beyond CMR
Processing of customs services
Vehicle fleet
We own 66 vehicle units, of which 25 are semi-trailers
Truck/Eurotrailer
MAN, RENAULT, IVECO, FORD
L/W/H: 13.6m x 2.45m x 2.75m
volume: 92 m3
number of pallet places: 33
useful weight: 24 t
Truck/Megatrailer
MAN, IVECO
L/W/H: 13.6m x 2.45m x 3m
volume: 100 m3
number of pallet places: 33
payload: 24 t
Truck up to 12 t
MAN, IVECO
L/W/H: 7.5m x 2.45m x 2.5m
volume: 46 m3
number of pallet places: 18
payload: 5.5 t
Truck up to 7.5 t
IVECO
L/W/H: 6.5m x 2.45m x 2.5m
volume: 40 m3
number of pallet places: 16
useful weight: 3.5 t
Truck with trailer
Number of pallet places: 36
Useful weight: 11t